Updated By: LatestGKGS Desk
Government to issue Rs 75 coin to mark 75th anniversary of Tricolour Hoisting.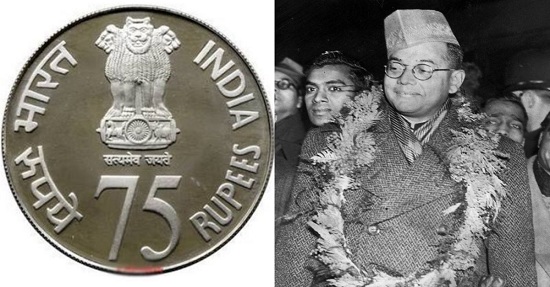 Government plans to issue 75rs coin on the 75th anniversary of Netaji Subhash Chandra Bose hoisting the tricolor.
This anniversary will be dedicated to Netaji and well organized for the first time at Port Blair.
Bose was one of the greatest leaders at the time of Independence and played a major role in the freedom struggle.
Bose raised INA Indian National Army on December 30, 1943, to fight against the British which had hoisted the Tricolor for the first time at the cellular jail, Port Blair.
A coin which will be issued at his anniversary is of weight 35 grams which consist of 50% of silver, 40%of copper and 5% of nickel and zinc.
As it is dedicated to Subhash Chandra Bose, a portrait of Netaji saluting the flag on the background of cellular jail in Port Blair.
Just below the portrait of Bose, a numeral 75th along with inscription anniversary would be showcased on the coin.
The coin would bear an inscription of both Devanagari script and English saying first Flag Hoisting Day.
Latest Subhash Chandra Bose Updates