Updated By: LatestGKGS Desk
India Celebrates Festival of Harvest Baisakhi: Sikhs New Year on 14th April 2018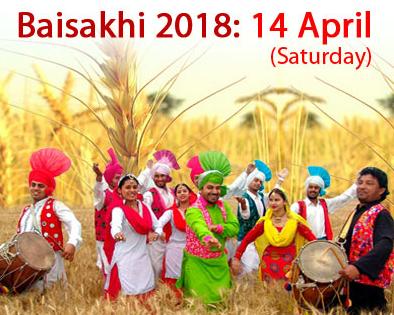 India Celebrates Festival of Harvest Baisakhi: Sikhs New Year on 14th April 2018- Date, Significance, Celebrations
Baisakhi is one of the important festivals for the followers of Sikh religion. It is celebrated annually on 13th April or 14th April depending on the Nanakshahi calendar and the Mool Nanakshahi Calendar.
This year Baisakhi-2018 will be celebrated on 14th April 2018 (Saturday).
Baisakhi is also called as Vaishakhi or Vaisakhi, the day marks the birth of Khalsa Panth under Guru Gobind Singh, the tenth Guru of Sikhs, in the year 1699.
Khalsa Panth has great significance on the day of Baisakhi. Five Beloved Sikhs also called as 'Panj Pyaare' are the founding members of the Khalsa Panth.
Baisakhi is also celebrated as Sikh New Year. North Indians mainly in the region of Haryana and Punjab celebrate this day as the festival of harvest.
Baisakhi is celebrated with great zeal among the Sikh population of India. On this day Punjabi community decorates and visit their local gurdwaras and hold Satsang or Kirtans. Sikh people also gather to socialise, wear traditional dress and share festive cuisines.
On the day of Baisakhi, Sikh people gather around a 'Bone fire' and sing folk songs like 'Jatta Ayi Baisakhi' and do Bhagara (men) and Gidda (women) on the Punjabi beats of drums & dhols.
Many Fairs and carnival are also organised on the day of Baisakhi. Farmers especially from the region of Punjab & Haryana visit the gurdwaras and pray & thank god for blessing them with a good harvest.