Updated By: LatestGKGS Desk
Harit Diwali, Swasth Diwali (Harit Diwali Abhiyan) Features, Social Campaign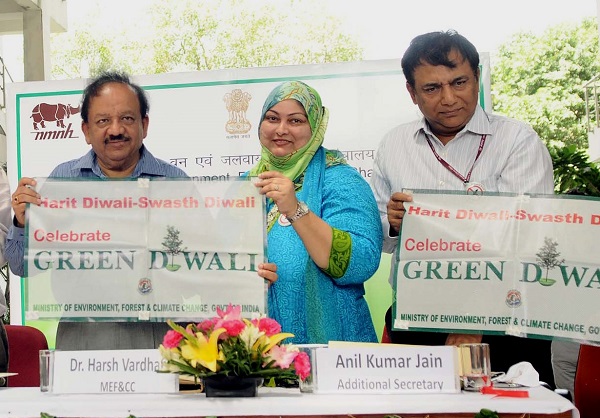 Deepawali: Ministry of Environment Harit Diwali-Swasth Diwali (Harit Diwali Abhiyaan) Features, Impact on Air Pollution, Campaign Details
Air pollution takes the form of a serious health problem in the country especially in the northern part of winter due to which the Ministry of Environment has launched the Harit Diwali-Healthy Diwali campaign.
The Ministry of Environment says that firecrackers, which burn on Deepawali, also increase air pollution during this time. Air pollution also leads to more serious health problems of people suffering from diseases of children, elderly and respiratory and it becomes necessary to make people aware.
Harit Diwali-Swasth Diwali campaign (Harit Diwali Abhiyan)
There are many combustible chemicals in the firecrackers run during Diwali, which include potassium chlorate powder with aluminium, magnesium, barium, copper, sodium, lithium, strontium etc.
On the burn of these chemicals, too much smoke comes out with a loud voice. This smoke and voice make the health problems of children and the elderly more serious.
Keeping in view the importance of the festival of lights along with these adverse effects, the Ministry has started 'Green-Diwali' campaign.
Under this campaign, children are advised to give their family members and friends a gift in the form of sweets and to clean their homes and surrounding areas.
During the campaign, children are advised to celebrate Deepawali in an environmentally friendly manner.
Green Diwali-Healthy Diwali campaign has been merged into 'Green Good Deed' campaign which has been launched as a social solidarity for environmental protection.
Ministry has encouraged all schools and colleges to be part of this campaign.