National Post Day: India Celebrates on 10th October Details, Aim, History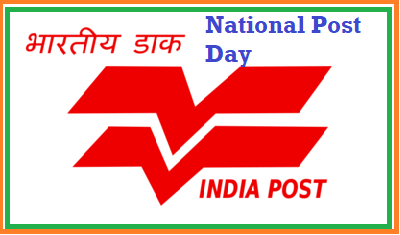 National Post Day: India Celebrates on 10th October 2018: Details, Aim, Significance, History
The National Post Day is celebrated on 10th October 2018 around India to mark the importance of Indian Postal Service and Indian Post.
The National Post Day is celebrated by the Department of Posts as National Postal Week between October 9 and 15 to highlight its role and contribution in the lives of people,
The National Post Day is celebrated observed as an extension of World Post Day. Universal Postal Union (UPU) which was founded in Berne in 1874.
On this day, New postal products and services are introduced on this day. Other activities like open days at post offices, mail centres and postal museums, conferences, seminars and workshops, and cultural, sport and other recreation events are also organised on National Post Day.
About India Post
Founded: 1 April 1854 (164 years ago)
Headquarters: New Delhi
Website: www.indiapost.gov.in
Highlights
The Indian Post Office Act 1898 passed by the legislature on March 22, 1898. It became active on 1st July 1898. The act was preceded by Act III of 1882 and Act XVI of 1896.
The world's first official airmail flight took place in India on February 18, 1911.
By 1861, there were over 850 post offices in India which were handling nearly 43 million letters and over 4.5 million newspapers annually. In April 1959, the Indian Postal Department adopted the motto 'Service before Self'
The first adhesive postage stamps in Asia were issued in Scinde in July 1852. India was the first country in the Commonwealth to issue airmail stamps.
Countries which have had stamps printed in India include Burma, Nepal, Bangladesh, Bhutan, Portugal and Ethiopia