Himachal Pradesh Shakti App for Women Safety Details, Features, Benefits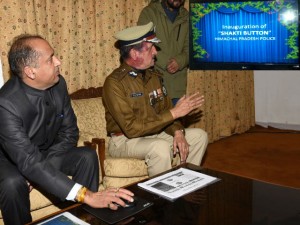 Himachal Pradesh Shakti App for Women Safety Details, Features, Benefits
The Chief Minister of Himachal Pradesh, Jai Ram Thakur has introduced the Shakti App for women's safety in the state on 26th January 2018.
Jai Ram Thakur, also launched the 24x7 available Gudiya Toll-Free Helpline Number 1515 and the Hoshiyar Singh Toll-Free Helpline Number '1090'.
The Shakti App and Toll-Free Helpline Numbers has been developed and designed by National Informatics Centre (NIC), Himachal Pradesh.
The Shakti App and Helpline Numbers are initiated with main objective to provide quick police action against women crimes and other violent acts
The Shakti App is available in both Hindi and English languages and does not need any internet connectivity. It is directly linked to the police control rooms.
The Shakti App, equipped with an alarming red Shakti button, so that any girl or women at the time of distress can press the red button for immediate help and the app will send information like name, phone number location of the women or girl under attack.
The Shakti App also comes with the features, that if the mobile phone is shaken hard or dropped, then an emergency SMS will go immediately to the nearest police control room within 20 seconds and will start recording audio and video of the incident.