Cricketer Shreyas Iyer Profile, ICC Sports Career, Awards, Achievements, Records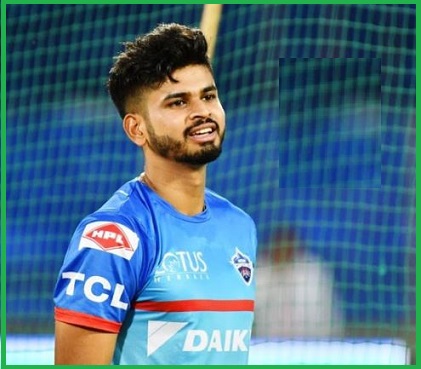 Cricketer Shreyas Iyer Profile, ICC Sports Career, Awards, Achievements, Records
Shreyas Iyer is an International Indian cricketer who plays for the Indian cricket national team and domestic cricket for his state Maharashtra.
Shreyas Iyer is an experienced middle-order All-rounder player who bats right-handed and bowls right-arm leg-break bowler.
Shreyas Iyer also plays in India, India U19, West Zone, Mumbai, Delhi Capitals, India A, Indian Board Presidents XI, India B, Mumbai Cricket Association XI, India Blue, India Green, Board Presidents XI, Rest of India, NaMo Bandra Blasters.
Shreyas Iyer was born on 6th December 1994 (24-years-old) who hails from Mumbai, Maharashtra, India.
Shreyas Iyer till date has played 6 One Day Internationals (ODIs) and 6 Twenty-Twenty (T20Is) matches for Indian national team. Also, 62 IPL matches.
Shreyas Iyer so far has scored 210 ODIs runs and 83 T20Is runs and 1681 runs in IPL cricket.
Shreyas Iyer so far has taken no wickets in International matches for Team India.
Shreyas Iyer made his ODIs debut vs Sri Lanka at Himachal Pradesh Cricket Association Stadium on 10 December 2017, and T20Is debut on 1 November 2017 vs New Zealand at Feroz Shah Kotla, Delhi.
Recently, on 21st July 2019, Shreyas Iyer was selected in India's squad for the 2019 West Indies tour for T20I and ODI matches.