Updated By: LatestGKGS Desk
Indus Water Treaty (IWT) highlights in wake of Kashmir, POK Issue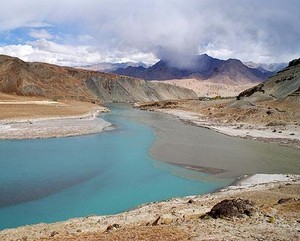 Indus Water Treaty deals with Indus river water signed by Jawahar Lal Nehru and Ayub Khan, An India vs Pakistan scene on treaty
Indus River Water Treaty (IWT) get signed by Indian Prime Minister Pt.Jawahar Lal Nehru and Pakistan President Ayub Khan in Karachi. Indus Water Treaty brokered by International Bank of Reconstruction And Development (Today's World Bank).
Indus Water Treaty deals with sharing of five other rivers water originating from India. Those five rivers including Beas, Ravi, Sutlej, Chenab and Jhelam.
India has full control over three eastern rivers Beas, Ravi and Sutlej. India consumes water of these rivers before letting it to cross the borders.
As per Indus Water Treaty (IWT) Pakistan has control over western flowing rivers Indus, Chenab and Jhelam.
IWT (Indus Water Treaty) special feature
IWT allows India to utilize 20% of Indus river water for it's irrigation, transport and power generation rest should be free for flow to Pakistan territory.
Indus Water Treaty remains very strong agreement between two countries facing many wars on same soil.