GK Questions 19th June 2019 General Knowledge, Current Affairs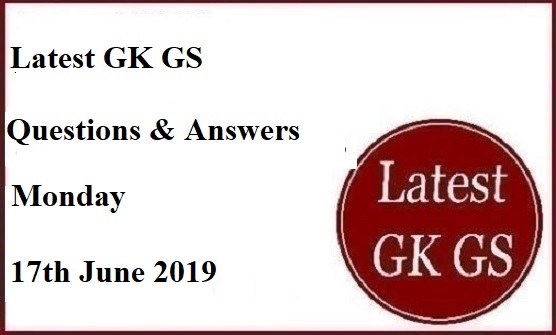 Daily GK Questions Monday 17th June 2019 General Knowledge, Current Affairs
1. The first session of 17th Lok Sabha will start on which date?
Ans:- 17th June 2019
2. PM Narendra Modi, to share his thoughts in Mann Ki Baat program on which date?
Ans:- 30th June 2019
3. Who was appointed as India's High Commissioner to Tuvalu?
Ans:- Ms. Padmaja
4. In ICC Cricket World Cup 2019, India defeated which country by 89 runs (DLS method) on 16th June 2019?
Ans:- Pakistan
5. When is World Day to Combat Desertification and Drought celebrated every year?
Ans:- 17th June

6. For which cause India's NGO Akshay Patra wins BBC Award?

Ans:- Free School Meals

7. Recently, where did 150th Birth anniversary of Mahatma Gandhi celebrated?
Ans:- Dhaka

8. When will 20th anniversary of Operation Vijay 'Kargil' to be celebrated?
Ans:- 25th June to 27th July 2019
9. Who won Pacific International Billiards Championship?
Ans:- Peter Gilchrist

6. Where is the World's Highest Weather Stations installed on?
Ans:- Mt Everest
7. Who is the winner of Femina Miss India 2019 and from which state?
Ans:- Suman Rao from Rajasthan

8. Which cyclone is likely to change its course may strike Kutch coast on 17th & 18th June 2019?
Ans:- Cyclone Vayu
9. When was the International Day of Family Remittances observed?
Ans:- 16th June
10. When is Father's Day 2019 Celebrations Held?
Ans:- 16th June 2019