GK Questions 16th June 2019 General Knowledge, Current Affairs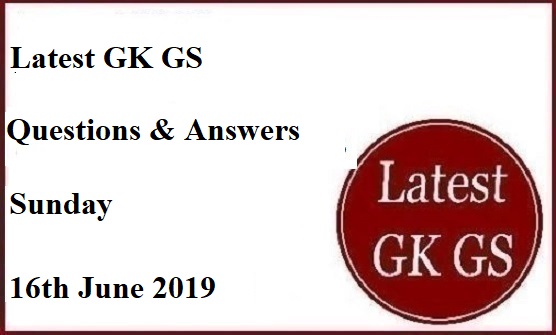 Daily GK Questions Sunday 16th June 2019 General Knowledge, Current Affairs
1. When is Father's Day 2019 Celebrations Held?
Ans:- 16th June 2019

2. Who is the winner of Femina Miss India 2019 and from which state?
Ans:- Suman Rao from Rajasthan

3. Which cyclone is likely to change its course may strike Kutch coast on 17th & 18th June 2019?
Ans:- Cyclone Vayu
4. Recently, who was awarded Kyrgyzstan's Highest Honour?
Ans:- Chinese President Xi Jinping
5. What is the FIFA Ranking 2019 of India?
Ans:- 101st Rank

6. Where was the Maritime Information Sharing Workshop 2019 held?

Ans:- Gurugram

7. Name of the NGO which won BBC Award?
Ans:- NGO Akshay Patra

8. Indian Navy to get which heavyweight torpedo?
Ans:- Torpedo Varunastra

9. Who won Pacific International Billiards Championship?
Ans:- Peter Gilchrist

10. Where is the World's Highest Weather Stations installed on?
Ans:- Mt Everest

11. When were the World Elder Abuse Awareness Day 2019 celebrations held?
Ans:- 15th June 2019