Updated By: LatestGKGS Desk
Karnataka Government Cabinet Approved Separate Religion Status for Lingayats Details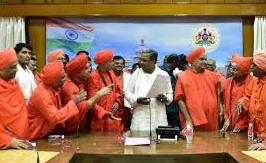 Karnataka Government Cabinet Approved Separate Religion Status for Lingayats-Details, Features
The Karnataka assembly elections are around the corner in April 2018, in a tricky move for opposition (BJP), the Congress-led Siddaramaiah Government on 19th March 2018, has decided to give independent religious status to the Lingayats community and decided to ask the Centre to grant it minority status.
Karnataka CM Siddaramaiah has proclaimed that he was in strong favor of recommending the status of an independent religion for Lingayats "if the demand is unanimous."
The opposition party (BJP) has strongly accused the Congress Government move for attempting to divide the community for electoral gains.
The BJP president Amit Shah recent visit to Karnataka showed downplayed the issues of a separate flag and separate religion status for Lingayats and termed Congress is playing "dirty political game" in the name of religion.
The Lingayats community constitutes about 17.5 % of the Karnataka state population. They follow 'Lingayatism' which is totally different from 'Hinduism'.
The two major sections of the Lingayats community are 'Veerashaivas' and those who want to be known only as 'Lingayats'. The followers of 12th-century saint 'Basavanna' known as 'Sharanas' who wanted to break away from the established Hindu tradition, and opposed the caste system and Vedic rituals.