Updated By: LatestGKGS Desk
India & Jordan 12 MoUs/Agreements 2018 features details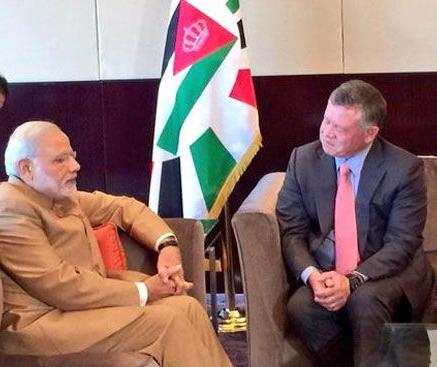 India & Jordan Signed Twelve MoUs/Agreements on 1st March 2018- Details
India and Jordan have signed Twelve Memorandum of Understanding (MoUs) and Agreements on 1st March 2018 at Prime Minister's office in New Delhi.
The MoUs and Agreements were signed after delegation-level talks between Prime Minister, Narendra Modi and King of Jordon, Abdullah II bin Al-Hussein at a bilateral meeting in New Delhi.
The First MoU was signed to develop and encourage cooperation in the fields of Health, Medical Science, Medical Education and Research on the basis of equality and mutual benefits in accordance with respective legislation and regulations of India and Jordan.
The Second MoU was signed to promote cooperation between both the countries in the field of Defence by defining the scope of cooperation and implementation in some of the specified areas like Training; Defence Industry; Counter-Terrorism; Military Studies; Cyber security; Military Medical Services, Peace-Keeping etc.
The Third MoU was signed between University of Jordan (UJ) and Indian Council for Cultural Relations (ICCR) regarding setting up of a Hindi Chair at the Jordan University.
The Fourth MoU was signed for cooperation between Indian Institute of Mass Communication (IIMC) and Jordan Media Institute (JMI). It aims to develop joint projects between the two institutes; joint organization of academic and scientific activities, exchange of staff, students and materials of common interest.
The Fifth MoU was signed for cooperation between Prasar Bharati and Jordan Radio and TV Corporation to cooperate in the fields of exchange and co-production of programs, training of personnel and further coordination.
The Sixth MoU was signed for creating next generation Centre of Excellence (COE) in Jordan for the training of minimum 3000 Jordanian IT professionals over a period of 5 years, and setting up of the resource centre in India for Training of Master trainers in IT field from Jordan.
The Seventh MoU was signed for long-term supply of Rock Phosphate and Fertilizer/NPK.
The Eighth MoU was signed forManpower Cooperation Agreement to promote best practices in the administration of the cycle of contract employment of the Indian nationals in Jordan.
A Twining Agreement was made between Agra and Petra (Jordan). It aims the two municipalities of Agra & Petra to work jointly for the promotion of social relations by identifying the activities for mutual cooperation in tourism, culture, sports and economic sectors.
The Custom Mutual Assistance Agreement for mutual assistance between India and Jordan to ensure proper application of the customs legislation in the two countries to prevent custom offenses and for smooth exchange of accurate information regarding customs duties, taxes, fees and other charges levied by custom administration.
An Agreement was signed for Cultural Exchange Programme (CEP) in the areas of music and dance; theatre; exhibition, seminars and conference; archaeology; archives, library, museum, literature, research and documentation; Science museums; festivals; mass media, and; youth programs.
An Agreement was signed for Visa waiver for diplomatic and official passport holders between both the countries.