Updated By: LatestGKGS Desk
Indian Literary Award: Gyanpeeth Award (Jnanpith Award) history, winners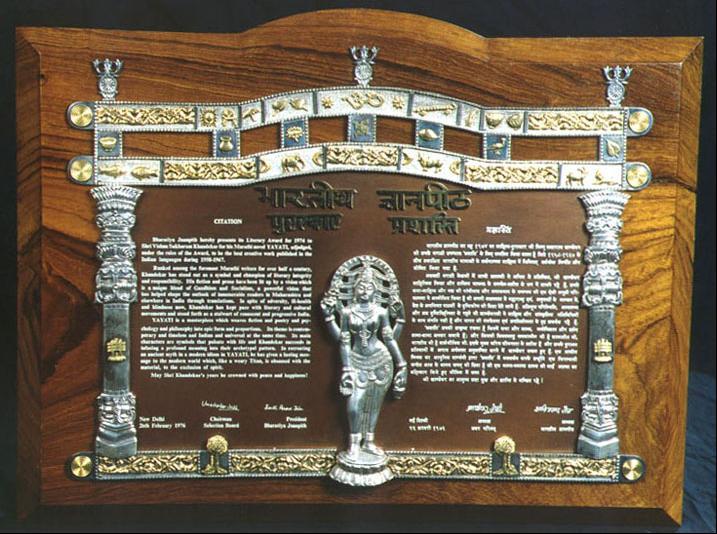 Literary award Gyanpeeth Award (Jnanpith Award), History and Some Important Winner list
Literary awards are conferred to the authors and poets for good piece of writing and their associated contributions towards the betterment of India Literature.
Some of most prestigious Indian literary awards which felicitate Indian writers and some are also given to Indian authors who write in regional languages.
Gyanpeeth Award (Jnanpith Award):
Gyanpeeth award is Highest Literature award of India, awarded by Indian Government to Indian citizens annually, who have done some exemplary literature works in any of the official languages of India.
Gyanpeeth Award is associated with a cash prize of Rs. 11 Lakhs and decoration include a bronze goddess, Saraswati Idol.
Some Important Winner List of Gyanpeeth Award (Jnanpith Award) in Literature:
In 1961, Sahu Shanti Prasad Jain family of the Times of India group established the Gyanpeeth trust. The trust is the authority which confers his prestigious Gyanpeeth awards.
Gyanpeeth award is conferred to only Indianan citizens. The award is presented for lifetime achievement works of authors and not on single writing.
The first recipient of Gyanpeeth award was G Shankar Kurup in 1965, for his Malayalam poem collection named "Otakuzhal".
Sumitranand Pant was the first Hindi author who gets this author in 1968 for his work "Chidambaram".
Tarasankar Bandhopadhyay was the first Bengali author to get this prestigious award in the year 1966.
K V Puttappa (Kuvempu) was the first person to get Gyanpeeth award in Kannada Literature.
Satya Vrat Shastri is the first author to get Gyanpeeth award for his good work in the Sanskrit language in 2006.
Amrita Pritam was the only author to get Gyanpeeth award in 1981, belonging to Punjab literature for his work named "Kagaj Ke Canvas".