Updated By: LatestGKGS Desk
List of highest Civilian Awards of India Bharat Ratna, Padma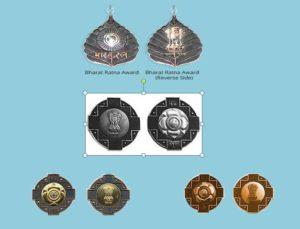 List of highest Civilian Awards of India: (Bharat Ratna, Padma Vibhushan, Padma Bhushan and Padma Shri)
Civilian awards are the stand for those people who do good work in fields of Art, literature and education, sports, medicine, social work, science and engineering, public affairs, civil service, trade, and industry etc.
Bharat Ratna Award :
Bharat Ratna is the highest national civilian award given by the Republic of India for the good work in the field of Science, Art, Literature, Sports etc.
Bharat Ratna Awards was established on 2nd January 1954. A Sanad (certificate) signed by the President of India Babu Rajendra Prashad and medallion is presented at the time of distribution of award.
Sports is the latest category that has been added to the list of the field by making amendments in 2013.
Sachin Tendulkar was given the award in the sports category after the amendments. Sachin Tendulkar was the first youngest person who receives Bharat Ratna Award.
First recipients of Bharat Ratna Awards (1954)
The first recipients of the Bharat Ratna award in 1954, C. Rajagopalachari, Dr. S Radhakrishnan and Dr. CV Raman. They were given the award in the year 1954 at the time of initiation of the award.
Padma Vibhushan Award:

Padma Vibhushan is the second highest civilian award and is given to people from the various field like Art, Science, public services and also to government employees.
First recipients of Padma Vibhushan award (1954):
The Padma Vibhushan award was started in 1954 with S N Bose, Nand Lal Bose, Zakir Hussain, B G Kher and V K Menon and J D Wangchuk were the persons who first recipients of the award.
Padma Bhushan Award:

The Padma Bhushan is the third highest civilian award of India. It comes second in under the list of Padma Award. This award is given for distinguished service of a high order.
First recipients of Padma Bhushan (1954):
In 1954, Homi Jahangir Bhabha, Shanti Swaroop Bhatnagar, M S Subbalakshmi, Sukumar Sen, Amar Nath Jha, R R Handa and Radha Krishan Gupta was the first recipients of Padma Bhushan award.
Padma Shri Award:
Padma Shri is the last and fourth highest civilian award in India which is announced on republic day every year.
The awards are given to distinguished people including Art, Education, Industry, Literature, Science, Sports, Medicine, Social Service and Public Affairs.
The first recipients Padam Shri award (1954)
The first recipients Padam Shri award in 1954, Asha Devi Aryanayakam, Bir Bhan Bhatia, Perin Captain, K R Chakravorty, Amalprava Das, Mathura Das, Surinder Kumar Dey, Ramaji Vasant Khanolkar, Achamma Mathai, Bhag Mehta.
Akhil Chandra Mitra, Apa Saheb Bala Saheb Pant, K Shankar Pillai, Mirnamayee Ray, Tarlok Singh, Machani Somappa and SP Patil Thorat.