Updated By: LatestGKGS Desk
Alphonso Mango from Konkan districts of Maharashtra got GI tagged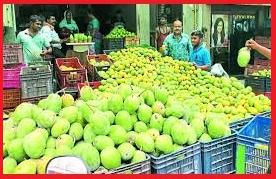 Alphonso Mango from Konkan districts of Maharashtra got GI tagged: Details, Highlights
The Alphonso Mangoes from Maharastra's Konkan districts got Geographical Indication (GI) tag on 5th October 2018.
The Alphonso Mangoes from Ratnagiri, Sindhudurg, Palghar, Thane and Raigad districts of Maharashtra, got registered as a Geographical Indication (GI).
The king of Mangoes, Alphonso is better known as 'Hapus' in Maharashtra.
The Alphonso Mangoes is one of the world's most popular fruit and is exported to various countries including Japan, Korea, and Europe.
Other similar GI tagged products include Darjeeling Tea, Mahabaleshwar Strawberry, Blue Pottery of Jaipur, Banarasi Sarees and Tirupati Laddus.
About Geographical Indication (GI)
A Geographical Indication or a GI is an indication used on products that have a specific geographical origin and possess qualities or a reputation that are due to that origin.
The first GI tagged product of India was the Darjeeling tea in the year 2004.
At present, there are a total of 325 products from India that carry this indication.
Maharashtra (India)
Statehood: 1 May 1960 (Maharashtra Day)
Capitals: Mumbai & Nagpur
Districts: 36
Official Language: Marathi
Governor: C. Vidyasagar Rao
Chief Minister: Devendra Fadnavis