Ordnance Factory Day Observed On 18th March Details, History, Purpose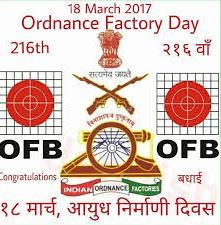 Ordnance Factory Day Observed On 18th March- Details, History, Purpose
The Ordnance Factories Day is observed on 18th March every year across India.
The Ordnance Factories Day was marked on the occasion of the first production commenced on 18th March 1802, from the first Ordnance Factory of India, situated at Cossipore, Kolkata. It also acknowledges to mark the foundation of the first ordnance factory at Cossipore, Kolkata in India.
The Ordnance Factories Day is celebrated in all Indian Ordnance Factory, Field Gun Factory, Small Arms Factory, Ordnance Parachute Factory and Ordnance Equipment Factory to acknowledge the importance of the day.
On the Ordnance Factories Day, all the employees including officers, staff members, union & federations etc take part in parade, seminars and various organized events.
The Ordnance Factories Day is commemorated by showcasing defense products of respective factories in exhibitions across India like Guns, Ammunition, Rifles, Artillery, Explosive, Parachutes and Bulletproof Dresses & Civil Clothing etc.
On the Ordnance Factories Day exhibitions are usually open for all. Usually, the celebrations begin with a parade beside the exhibition also displays photographs of several mountaineering expeditions.
The Ordnance Factories of India provides its products to all three Armed Forces of our country namely Army, Navy & Airforce. It also exports its some products like ammunition, clothing, leather produce, parachutes etc to over 30 countries in the world.
All the Ordnance Factories of India is governed by Ordnance Factories Board (OFB) under the shield of the Department of Defense Production, Ministry of Defense (Government of India).