Updated By: LatestGKGS Desk
India and Vietnam 3 MoUs/Agreements on 3rd March 2018 details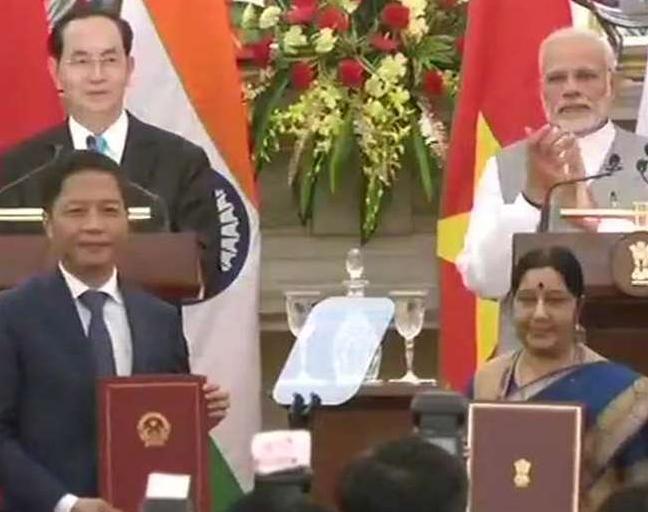 India & Vietnam Signed Three MoUs/Agreements on 3rd March 2018- Details, Purposes
India and Vietnam have signed three Memorandum of Understanding (MoUs) and Agreements on 3rd March 2018 in New Delhi.
Vietnam President Tran Dai Quang is on a three-day visit to India, arrived on 2nd March 2018 at the invitation of his Indian counterpart President Ram Nath Kovind.
The Vietnamese President, Tran Dai Quang also received Guard of Honor at Rashtrapati Bhawan followed by diplomatic talks with Sushma Swaraj, Minister of External Affairs.
The MoUs and Agreements were signed after delegation-level talks between Prime Minister, Narendra Modi and Vietnamese President, Tran Dai Quang at a bilateral meeting on 3rd March 2018 in New Delhi.
The First MoU was signed for cooperation on Economic and Trade. It is aimed to establish a framework for enhancing economic and trade promotion.
The Second MoU was signed between the Global Centre for Nuclear Energy Partnership, India (GCNEP) and the Vietnam Atomic Energy Institute (VINATOM). It aims to strengthen the technical cooperation in the field of atomic energy for peaceful purposes.
The Third MoU was signed on Work Plan for the years 2018-2022 between the Indian Council of Agricultural Research (ICAR) and Ministry of Agriculture and Rural Development of Vietnam. Its objective is to promote cooperation in the transfer of technology and exchange of visits of technical experts in the fields of agriculture and allied
Latest Ministry Of External Affairs Updates