World Cup 2019: MS Dhoni Wore Indian Army Insignia Gloves, ICC Ask's To Remove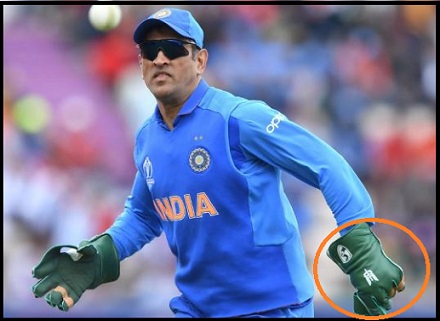 World Cup 2019: MS Dhoni Wore Indian Army Insignia Gloves, ICC Ask's To Remove
Indian Cricket Team's star wicketkeeper and former captain MS Dhoni was seen wearing gloves with Indian Army insignia during their first match of world cup 2019 against South Africa on 5th June 2019 (Wednesday).
MS Dhoni in the match had worn gloves with the regimental dagger insignia of the IndianPara Special Forces.
MS Dhoni was conferred the honorary rank of Lieutenant Colonel in November 2011 by the Indian army.
MS Dhoni this move was highly appreciated by India fans around the world on twitter & social sites with #DhoniKeepTheGlove.
Indian fans have not only thanked and praised him but also urged Indian MS Dhoni to keep wearing the gloves with Special Forces' insignia.
But now, the International Cricket Council (ICC) has put an objection to this move and has requested Dhoni to remove the insignia from his gloves.
ICC General Manager of Strategic Communications, Claire Furlong has asked Board of Control for Cricket in India (BCCI) to get the insignia removed.
According to ICC norms, "The ICC equipment and clothing regulations do not permit the display of messages that relate to political, religious or racial activities or causes during an international match."