Updated By: LatestGKGS Desk
PM Narendra Modi promises MSMEs Rs 1 crore loan in 59 minutes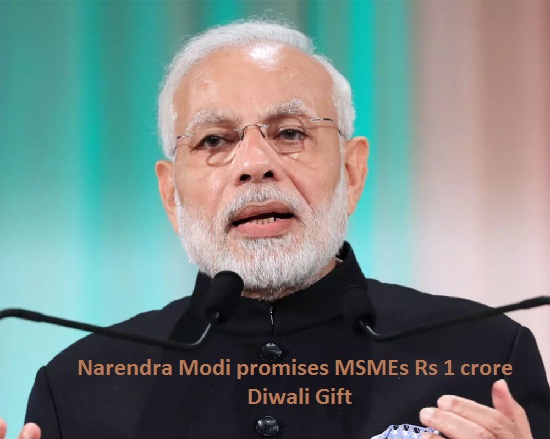 On Nov 3 8:44 A.M Prime Minister Modi announces Rs 1Crore loan in 59 minutes for MSMEs
At the launching ceremony of government support and outreach initiative for MSME, he made this big step to uplift the MSMEs.
He focuses on enhancing interest subsidy for the MSME sector, to reach out to small enterprises as this sector has been struggling since demonetization.
MSME employs 111 million people and contributes around 30% to GDP.
PM Modi said at the launching ceremony that this sector is major generators of employment opportunity and making a significant contribution to the overall growth of the countries economy.
He too stated that mandatory procurement of 20 percent from MSME by public sector undertaking increased to 25 percent.
He said it is necessary for all the central government companies to subscribe to government e-marketplace.
For the women benefit, he decided that 3percent of total purchases will be reserved for women entrepreneur.
He stated only one consent will be necessary under air pollution and water pollution laws. He himself will review the work of MSME in 100 districts.
He praises the government too as by reforms and landmark decision doing business in India become very easy.
All the Industry bodies praise the measures announced by the Prime Minister for supporting MSMEs. as they thought it would easier access to credit for the sectors and resolving problems related to it.