Updated By: LatestGKGS Desk
PM Narendra Modi target ex-PM Indira Gandhi Garibi Hatao slogan as false promise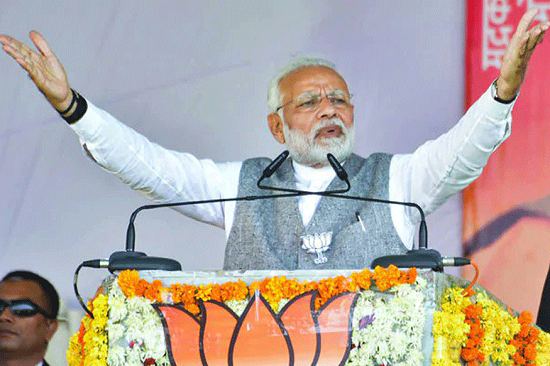 PM Modi targets Indira Gandhi, says that 'garibi hatao' was a false promise, bank nationalization a fraud
Prime Minister Narendra Modi targeted the late Indira Gandhi on Saturday and said that her famous slogan "garibi hatao" was a false promise and bank nationalization was fraud in the name of the poor.
Were not those who promised to eradicate poverty "liars", he said in a blistering attack on the Nehru-Gandhi family in a rally here before the assembly elections of 28 November in Madhya Pradesh.
He also said that if Congress comes to half the time in power, then it will bring changes in the country.
Due to constant criticism of Congress president Rahul Gandhi, Modi's remarks came that BJP had made "fake promises" to the people in the 2014 elections.
Modi said that Nehru-Gandhi's four-generation ruled the country, but did not waste any chance of 'manipulating" people."Grandmother of the 'Namdar'(dynasty), Mrs. Indira Gandhi was the Prime Minister of the country. Did she give slogan to remove poverty 40 years ago? He asked the gathering.
Honestly tell me, is poverty over? Was not this a false promise? Were not those people who had promised? "Modi asked.
The Prime Minister said that Indira Gandhi claimed to be nationalized "overnight" banks that her government is opening its door for the poor.
However, despite nationalisation, half of the country did not see the banks' doors until 2014 they claimed.