PM Narendra Modi launches projects worth over Rs 1,550 crores in Odisha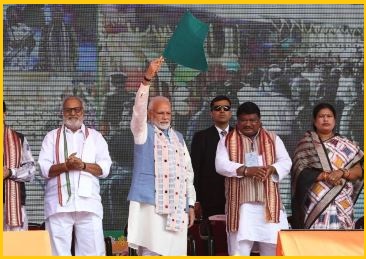 PM Narendra Modi launches projects worth over Rs 1,550 crores in Odisha: Details, Highlights
Prime Minister Narendra Modi launched several Central government projects worth over Rs.1,550 crore in Balangir district of Odisha for accelerating the state's development.
List of Projects Launched
PM Modi dedicated to the nation the electrification of Jharsuguda-Vizianagaram and Sambalpur-Angul railway lines spanning 813 km and completed at a cost of Rs 1,085 crore.
PM Modi also inaugurated the doubling of 14.2 km Barpali-Dungaripali and 17.3 km Balangir-Deogaon rail lines, completed at a cost of Rs 189.3 crore.
Also, a Multi-Modal Logistics Park (MMLP), spread over 28.3 acres and built at a cost of Rs 100 crore at Jharsuguda was also dedicated to the nation.
PM Modi also inaugurated the 15 km-long Balangir-Bichhupali railway line laid at a cost of Rs 115 crore. It is part of the new 289-km Balangir-Khurda road line which connects to Howrah-Chennai main line on Khurda Road and Titlagarh-Sambalpur line at Balangir.
A new train on Balangir-Bichhupali route was also flagged off by PM Modi.
PM Modi also inaugurated renovation and restoration works at Nilamadhav & Siddheswar Temple at Gandhaharadi in Boudh, Paschim Somnath group of temples, also in Boudh, and Ranipur Jharial group of monuments in Balangir.
Besides six Passport Seva Kendras (PSKs) one each at Jagatsinghpur, Kendrapara, Puri, Phulbani, Bargarh and Balangir were also inaugurated by PM.
Finally, PM Modi laid the foundation stone for a permanent building of Kendriya Vidyalaya, Sonepur, to be constructed at a cost of Rs 15.81 crore and also inaugurated a Kendriya Vidyalaya at Rayagada.
ODISHA
Country: India
Established: 1 April 1936
Capital: Bhubaneshwar (Also Largest City)
Districts: 30
Chief Minister: Naveen Patnaik