Updated By: LatestGKGS Desk
Nasa's Mars Cubesat Success Paves Way For Smaller Deep Space Probes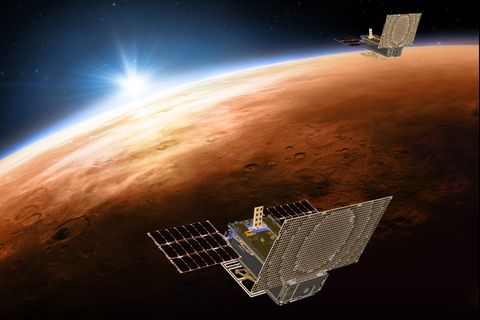 Mars Insight Lander Mission: NASA Cubesat features, Role in future space exploration
The NASA's first briefcase-shaped spacecraft, Marco Cubesat, has begun to travel through deep space and successfully send information through the latest Robotic Lander - 'The Insight' on Mars.
This has created a way to further deepen the space in the future. Dual communication CubeSat is made by NASA's Jet Propulsion Laboratory (JPL) in California and it was launched on May 5 with Insight Lander. It landed on Mars successfully on Monday.
Cubesat is a class of spheres which is based on standardized small size and modular use of off-the-shelf technology. Many of these have been constructed by the students of the University and during the launch of the major spacecraft, they have also been launched in the orbit of the Earth.
NASA said in a statement that the mission target of two small Mars Cube One (Marco) has been completed. Marco had sent information while passing through Mars. In JPL, Marco Project Manager Joel Krazywski said, 'This is a big step in the field of Briefcase robotic discovery in the shape of our briefcase.' Marco-B, one of the experimental Mars Cube One (Marco) Cubesat, sent a picture of Mars from about 6,000 kilometers away while passing through the Red Planet on November 26.