Updated By: LatestGKGS Desk
NDMA Workshop On Disaster Risk Reduction Database Held In New Delhi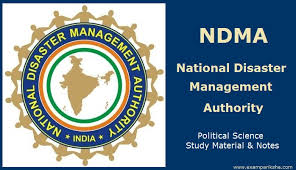 NDMA Workshop On Disaster Risk Reduction Database Concluded In New Delhi- Details, Aim, Purpose
The National Disaster Management Authority (NDMA) National workshop on 'Data Requirements for Disaster Risk Reduction Database' was held in New Delhi.
The workshop is a two-day event which was scheduled to conduct from 2nd May 2018 to 3rd May 2018 in New Delhi.
The workshop was organised collaboration with United Nations International Children's Emergency Fund (UNICEF), United Nations Development Programme (UNDP) and United Nations International Strategy for Disaster Reduction (UNISDR).
During the workshop, five technical sessions, group discussions and presentations on Disaster Management & Risk Reduction Database will be conducted.
The workshop was aimed to develop consensus on disasters, thresholds and develop standardised templates for data collection, updation and validation to ensure accuracy and quality issues such as interoperability and security of the data.
This database is important for assessing and tracking our risks and progress towards resilience without which India will not be able to meet its developmental goals.