Updated By: LatestGKGS Desk
National Integration Day Celebrations on 19th November: Details, Aim, Significance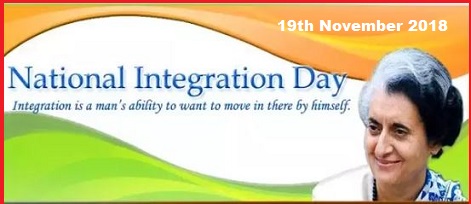 National Integration Day Celebrations on Birth Anniversary of First Indian PM Indira Gandhi-19th November: Details, Aim, Significance
National Integration Day is celebrated on 19 November every year all over India. It is celebrated as the birth anniversary of the first woman Prime Minister of India, Indira Gandhi.
National Integration day is celebrated to promote the love and unity among people all across India.
National Integration Day is celebrated every year in India by organizing several programmes and activities like Inter-State Youth Exchange Programme (ISYEP), National Integration Camp (NIC), National Youth Festival, National Youth Award and etc.
On National Integration Day events, seminars, cultural activities are organized to deal with issues related to national integration. Research activities and publications are held.
About National Integration-Significance
National Integration is the feeling of togetherness or oneness towards one's own country irrespective of their individual differences with regard to religion, region, race, culture or caste.
India is a land of widespread diversities in terms of religion, language, caste, tribe, race, region, and land. Hence the achievement of national integration becomes very essential for the all-round development and prosperity of the country.
About Indira Gandhi
Indira Gandhi, the first woman and 3rd Prime Minister of India (24th January 1966 – 24th March 1977) and (14th January 1980– 31st October 1984)
Indira Gandhi was born at 19th November 1917 in Allahabad. She was the daughter of the first Indian Prime Minister Pandit Jawaharlal Nehru. She was assassinated on 31st October 1984 at her residence by her own security guards.
Indira Gandhi did her higher education from the Vishwa Bharati University and Oxford. She got married to the Feroze Gandhi in 1942 and have two children Sanjay Gandhi and Rajiv Gandhi (Former Prime Minister of India)
Indira Gandhi was granted with the great Indian award, Bharat Ratna in 1971.