Updated By: LatestGKGS Desk
National Sports Day 29 August 2019 - Government of India 10 Schemes Promoting Sports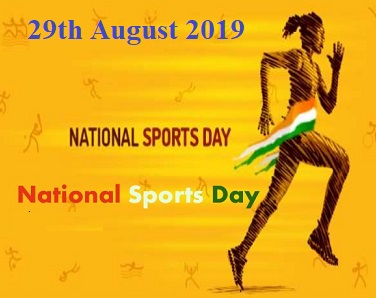 National Sports Day 29 August 2019 - Government of India 10 Schemes Promoting Sports
National Sports Day is celebrated every year on 29th August every year to commemorate the birth anniversary of India's legendary hockey player Dhyan Chand who was born on the same date: 29 August 1905.
On National Sports Day, President Ram Nath Kovind presented National sports Awards to Indian players along with Rajiv Gandhi Khel Ratna Award, Arjuna Award, Dhyan Chand Award, and Dronacharya Award.
National Sports Day was first declared in the year 2012.
Government of India Schemes Promoting Sports
1. Fit India Movement will be launched on 29 August on the occasion of National Sports Day 2019 by Prime Minister Modi himself at Indira Gandhi Indoor Stadium, New Delhi.
2. Khelo India Scheme was launched in 2016 after the merger of three schemes - Rajiv Gandhi Khel Abhiyan (RGKA), Urban Sports Infrastructure Scheme (USIS) and National Sports Talent Search Scheme (NSTSS).
3. National Sports Development Fund (NSDF) was formed in November 1998 by the then Government to promote sports and games in India.
4. Formation of the High-level committee to address grievances of women sportspersons in 2017 on the occasion of International Women Day (8 March),
5. Empowered Steering Committee on Sports (ESC) was constituted in January 2017 for preparing a comprehensive action plan for effective participation of Indian players in the Olympic Games of 2020 (Tokyo), 2024 (Paris) and 2028 (Los Angeles).
6. Several Schemes of Sports Authority of India (SAI)
7. National Sports Awards Scheme
8. Sports & Games for Persons with Disabilities Scheme
9. Promotion of sports amongst School Students under the Samagra Shiksha Scheme
10. Target Olympic Podium Scheme (TOP) launched in May 2015 under the NSDF to support the potential medal prospects for the Olympic Games of 2016 and 2020.