Updated By: LatestGKGS Desk
History of Rashtrapati Bhavan's Mughal Gardens Opening for Public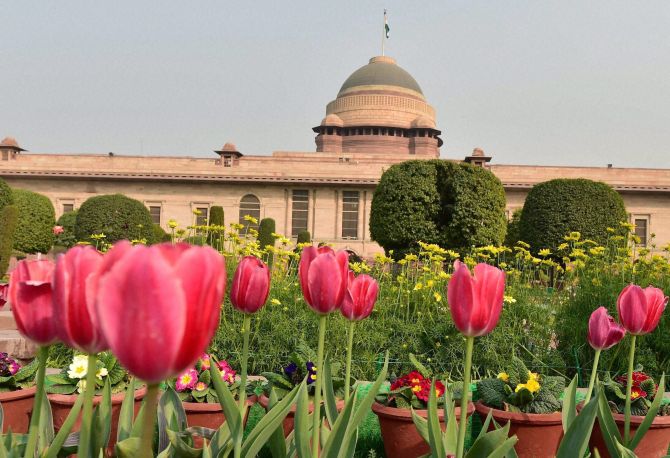 Rashtrapati Bhavan's Mughal Gardens Opens for Public- Details, History, Features, Schedules
Historic Mughal Gardens situated at Rashtrapati Bhavan, New Delhi is now open for the public visits from 6th February 2018 to 9th March 2018.
President Ram Nath Kovind had inaugurated the Mughal Gardens, as part of the 'Udyanotsav', on 4th February 2018. The Mughal Gardens is considered to be the 'soul' of the Presidential Palace.
The Mughal Gardens lawn also includes Circular, Spiritual, Herbal, Bonsai, Tactile and Musical gardens.
The Mughal Gardens, public visiting timings will be between 9:30 am and 4.00 pm. It will also be open on March 9 exclusively for special category people including Farmers, Disabled persons, Defence forces and Delhi Police personnel. The garden will remain closed on every Mondays for maintenance and on 2nd March, on account of Holi.
The Mughal Gardens adorn attraction for 'Udyanotsav' this season will be around 10,000 tulip bulbs in eight colors, brought from the Netherlands. These tulips flowering bed in colors of red, white, and yellow mixed with red, pink and purple, 135 different types of roses and 70 varieties of seasonal flowers.
The Musical garden water fountain will also be performing on synchronised tunes of the Shehnai and Vandemataram during Udyanotsav.
The Mughal Gardens is considered to be the 'soul' of the Presidential Palace. The garden was designed by Sir Edwin Lutyens in 1917, spread over an area of 15 acres. It is beautifully blended with Indian and Western architecture.
The Mughal Gardens possess plantation of 159 exotic varieties of roses and 50 varieties of trees, shrubs and vines including Tulips, Asiatic lilies, Daffodils, Hyacinth and other seasonal flowers.