Updated By: LatestGKGS Desk
India International Cooperatives Trade Fair begins on 11th October in New Delhi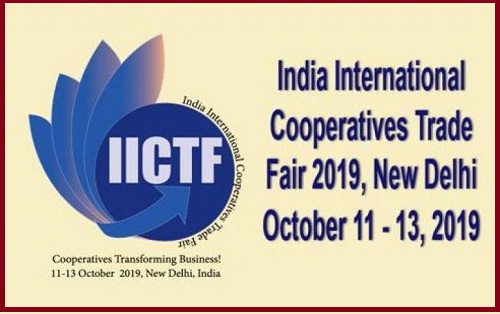 India International Cooperatives Trade Fair begins on 11th October in New Delhi
The India International Cooperatives Trade Fair (IICTF) begins today on 11 October 2019 at Pragati Maidan in New Delhi.
The India International Cooperatives Trade Fair (IICTF) is a three day fair is scheduled from 11 October to 13th October 2019.
IICTF fair is a unique initiative that provides a single platform to farmers, artisans & other members of cooperatives directly to the global trade arena.
IICTF is conceived as a major platform to promote exports of Indian cooperative produce and is packed with exhibitions, B2B/C2C meetings, conferences, cultural programs, etc.
IICTF Objectives is to double farmers' income by promoting cooperative to cooperative trade within India and abroad (ii) To promote exports of key agriculture commodities and products leading to enhanced rural and farm prosperity.
IICTF initiative is part of Agriculture Export Policy (AEP) 2018 which aims at doubling agriculture export and integrating Indian farmers and agriculture products with global value chains. As per AEP 2018, the Cooperative sector has big role to play in doubling agriculture exports from present $30 billion to $60 billion by 2022.
IICTF has been steered by National Cooperative Development Corporation (NCDC) with support of one international organization-NEDAC (Network for the Development of Agricultural Cooperatives), 3 Ministries, 4 State Governments and several apex levels Indian cooperative organizations.