Northern Railways will use WhatsApp groups to check & monitor cleanliness of trains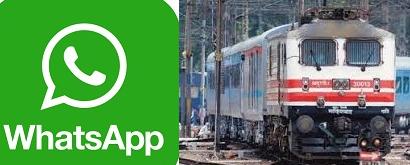 Northern Railways will use WhatsApp groups to check & monitor cleanliness of trains- Details, Aim, Purpose
The Northern Railways will now monitor the cleanliness of its trains using WhatsApp groups supervised by senior management officers.
According to the officials, every department, from its pantry area to bed-rolls or air conditioners in trains will have separate WhatsApp groups, in which status report of cleanliness will be uploaded on a daily basis.

Northern Railways General Managers, Vishwesh Chaube informed that WhatsApp groups have been created in which maintenance photographs will be uploaded in these groups regularly for monitoring by the senior officials.
He also added OBHS (On Board Housekeeping Staff) is already uploading time-stamped pictures on WhatsApp groups for monitoring.
The train coaches will be cleaned using vacuum cleaners, scrubbers and jet cleaning machines. Branded chemicals will be used instead of phenyl, and perfume and mosquito repellents will also be used
In order to keep the station area and tracks clean, 4,415 bio-toilets have been fitted in coaches in 2017-2018 against a target of 4,000 and 6,000 more will be fitted in 2018-2019
Northern Railways also targets to install CCTV cameras in 340 coaches - 265 in Delhi and 75 in Ferozpur divisions - for online monitoring of cleanliness and safety