8th August 2019: 77th Anniversary of Quit India Movement Observed: Details, History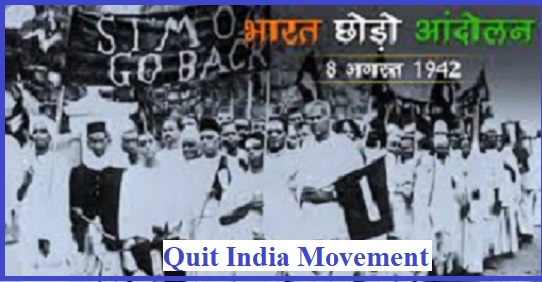 8th August 2019: 77th Anniversary of Quit India Movement Observed: Details, History
77th anniversary of Quit India movement is observed today on 8th August 2019. On this day in 1942, Mahatma Gandhi (father of the nation) had given a clarion call of Do or Die to all Indians to drive away Britishers from the country.
Quit India Movement (Bharat Chhodo Andolan or August Movement or August Kranti) was an important milestone in the Indian freedom struggle. It was civil disobedience movement launched at Bombay session of the All-India Congress Committee (AICC) by Mahatma Gandhi on 8 August 1942 demanding an end to British Rule of India.
Quit India Movement was launched after Mahatma Gandhi had made a call to Do or Die in his Quit India speech delivered in Bombay at the Gowalia Tank Maidan on 7 August 1942.
Quit India Movement called for India's immediate independence and aimed to force the British Government to negotiate table by holding Allied war effort hostage.
By initiating Quit India Movement, Mahatma Gandhi hoped to bring the British government to negotiating table as Cripps Mission had failed and given strong footing against sending Indians to fight on behalf of Britain in World War II.
Quit India Resolution drafted by Jawaharlal Nehru and was moved by him on 8th August 1942 in AICCC session and Sardar Patel seconded it. Under the leadership of Mahatma Gandhi, people across India came together to uproot imperialism.