Updated By: LatestGKGS Desk
International Day for the total Elimination of Nuclear Weapons on 26th September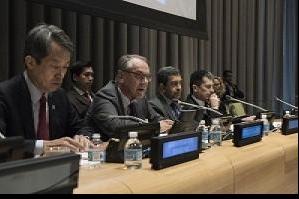 International Day for the Total Elimination of Nuclear Weapons Observed Globally on 26 September 2017
International Day for the Total Elimination of Nuclear Weapons was observed globally on 26 September 2017.
The Elimination of Nuclear Weapons was observed with an aims to educate the public and their leaders about the real benefits of eliminating nuclear weapons and the social and economic costs of perpetuating them.
The Treaty on the prohibition of nuclear weapons was adopted with an aim of a world without nuclear weapons in July 2017.
The Treaty was the result of a global campaign focused on the unacceptability of the use of nuclear weapons under any circumstances.
About The
Nuclear Weapons and its feature
On 26 September, the United General Assembly announced as the International day for the total elimination of nuclear weapons.
In December 2013 through its resolution A/RES/68/32 as a follow-up to the high-level meeting of the General Assembly on nuclear disarmament.
The International day enhances public appearance and education about the threat to humanity by nuclear weapons and the necessity for their total elimination to the Mobilize international efforts towards achieving the common goal of a weapon.
Latest Nuclear Weapon Updates