Updated By: LatestGKGS Desk
USD vs INR: Fall of INR History, Impact on Import, Inflation, Fuel Prices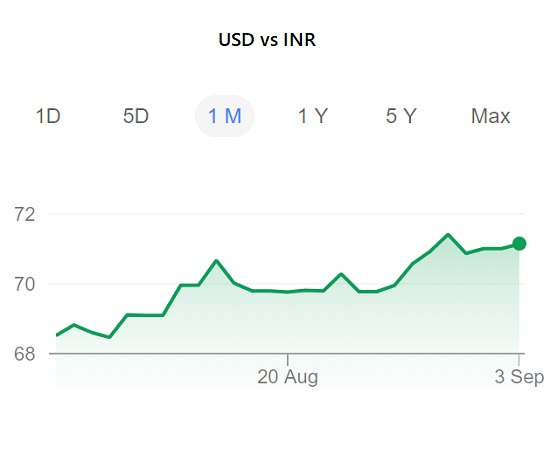 Indian Rupee Record fall against US Dollar History, Impact on Import, Inflation, Fuel Prices in 2018
The Rupee fell to the lowest level of 71 rupees per dollar on 31st August 2018. The rising dollar demand at the end of the month and the rising prices of crude oil in the international market are affecting rupees.
The rupee had fallen 15 paise to close at 70.74. With the fall of 9.90 percent, the rupee is the worst performing currency in Asia.
In 2019, the rupee has dropped 10 percent and this is the worst case for Asian currencies. Due to rupee depreciation, education abroad and overseas travel have become expensive due to imports.
The highest impact is on petrol and diesel prices. India imports 80% of crude oil. The price of crude oil has increased and due to the fall in the rupee oil companies are facing inflation. In the last 15 days, the price of diesel and petrol in the capital Delhi has increased by 1 rupee.
In order to boost the forex kitty, The Reserve Bank of India (RBI) has bought nearly 8.5 tonnes of gold in the financial year 2017-18, the first purchase of yellow metal by the central bank in almost nine years, a report said.