Vinayak Damodar Savarkar Profile Early Life Biography Political Career Achievements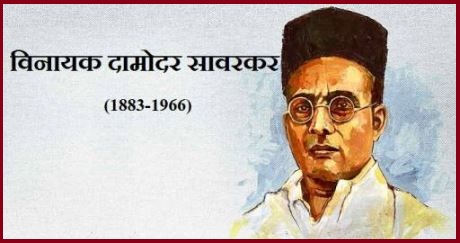 Vinayak Damodar Savarkar Profile, Early Life, Biography, Political Career, Achievements
Vinayak Damodar Savarkar famously called "Veer Savarkar" was a great Indian independence activist, orator, scholar, prolific writer, historian, poet, philosopher, and social worker.
Vinayak Damodar Savarkar was born on 28th May 1883, in the village of Bhagpur near Nasik. Ganesh (Babarao), at a very early age of 8 years, he lost his father Damodarpant Savarkar and mother Radhabai.
Veer Savarkar established an organization by the name of 'Mitra Mela' which influenced the members to fight for "absolute political independence" of India.
Veer Savarkar completed his Bachelor of Arts from Fergusson College, Pune, Maharashtra. He was a Barrister at The Honourable Society of Gray's Inn, London.
Veer Savarkar in 1937 was made the president of the Hindu Mahasabha and popularised the slogan 'Hinduize all Politics and Militarize Hindudom'.
Veer Savarkar was arrested on 5 February 1948, on the charge of murder, conspiracy to murder and abetment to murder of Mahatma Gandhi. He was detained in the Arthur Road Prison, Mumbai. However, after an intense trial, he was acquitted.
Veer Savarkar died on 26th February 1966 due to Sallekhana Prayopavesa fasting.
Veer Savarkar wrote famous books:
1857 Che Svatantrya Samar
Hindupadpaatshahi
Hindutva
Jatyochhedak Nibandha
Moplyanche Banda
Maazi Janmathep
Kale Pani
Shatruchya Shibirat
Londonchi batamipatre
Andamanchya Andheritun
Vidnyan nishtha Nibandha
Joseph Mazzini
Hindurashtra Darshan
Hindutvache Panchapran
Kamala
Savarkaranchya Kavita
Sanyasta Khadg