Updated By: LatestGKGS Desk
Uttrakhand banned use of whitener due to addiction among teenager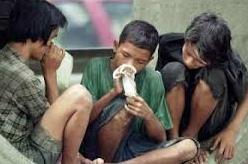 Uttrakhand Government banned use of Whitener, addiction expanding among teenagers
The government of Uttrakhand has banned the use of whitener in the state due to the death of a teenager who died taking excess sniffing from it.
Whiteners are used for erasing ink on paper or shoe whitener which contains aliphatic petrol hydrocarbons such as toluene and trychloroethane.
This intoxicating chemicals are used for inhalation addiction which repeatedly makes sniffer dizzy, high and disconnected.
This is the first step of alcoholism as it has hallucinatory effect on sniffer which makes the person addict.
14 year teenager boy died due to excess sniffing of whitener
This whitener is generally used among the youths for inhaling and the reason it is expanding due to easily availability, negligible cost and its lack of odour.
The high court has passed an order to not sell Feviquick, Iodex to children below 18 years due to the expansion of this abuse among the teenagers.
This abuse causes failure of kidney, lungs and liver and also affects the nervous system.
Latest Uttrakhand Updates