Updated By: LatestGKGS Desk
14 June: World Blood Donor Day 2019 Theme, Details, Aim, Significance, History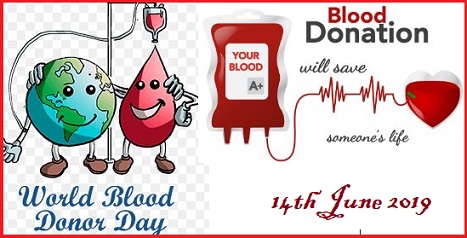 14 June: World Blood Donor Day 2019 Theme, Details, Aim, Significance, History
World Blood Donor Day is celebrated every year on 14th June around the world to thank voluntary blood donors who donate their blood to save someone's life across the globe.
World Blood Donor Day aims to raise awareness of the need for safe blood and blood products and to thank life-saving gifts of blood.
World Blood Donor Day-2019 this year theme is "Safe blood for all".
World Blood Donor Day also marks the birthday anniversary of Karl Landsteiner on 14th June 1868. He was an Austrian biologist, physician, and immunologist who first distinguished the main blood groups ABO blood group system in 1900, which is still used today to ensure the safety of blood transfusions.
World Blood Donor Day event first celebrations were first started in the year 2004 aiming to spread the importance of blood donation in order to maintain a healthy life.
On World Blood Donor Day several events are organized around the world such as sports events, concerts, and mobile blood donation clinics.
Many Health Care organizations like "the World Health Organization, the International Federation of Red Cross and Red Crescent Societies (IFRC) among other organizations work jointly to organize international level programs to promote the day among people globally.