Updated By: LatestGKGS Desk
15 June: World Elder Abuse Awareness Day 2019 Theme, Aim, Significance, History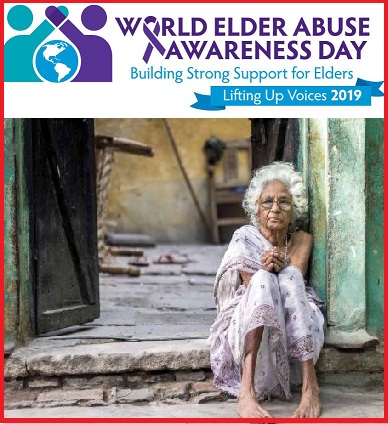 15 June: World Elder Abuse Awareness Day 2019 Theme, Details, Aim, Significance, History
World Elder Abuse Awareness Day (WEAAD) is celebrated every year on 15th June around the world to highlight the often silent suffering of the elder generation.
World Elder Abuse Awareness Day 2019 theme is "Build Strong Support For Elders- Lifting up voices 2019".
World Elder Abuse Awareness Day observance of this day aims to raise voice against abuse and suffering inflicted to some defenseless older people.
Elder abuse is a global social issue which affects the health and human rights of millions of older persons around the world. This day aims to gain the attention of the international community on this social issue.
World Elder Abuse Awareness Day was proclaimed by the United Nations General Assembly (UNGA) by through resolution 66/127. It was first celebrated in the year 2012, and was marked by meetings and conferences at the UN headquarters in New York.
Apart from the World Elder Abuse Awareness Day, the UN also observes an International Day of Older Persons on October 1 every year to recognize the contributions of older persons and to examine issues that affect their lives.
Background
The World Health Organisation (WHO) estimates that around 1 in 6 older people experienced some form of abuse. Rates of abuse may be higher for older people living in institutions than in the community.
Elder abuse is predicted to increase as many countries are experiencing rapidly aging populations. The abuse can lead to serious physical injuries and long-term psychological consequences.
Elder abuse is a serious social problem that affects health and human rights and can cause death.