Updated By: LatestGKGS Desk
13 June: International Albinism Awareness Day 2019 Theme, Details, Aim, History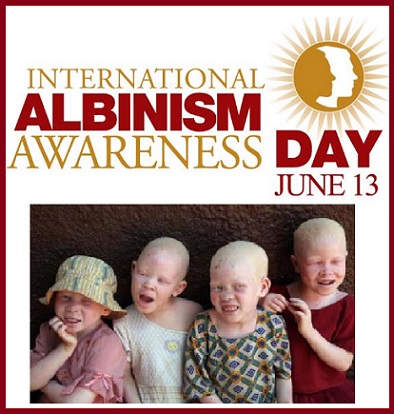 13 June: International Albinism Awareness Day 2019 Theme, Details, Aim, History
International Albinism Awareness Day is celebrated every year on 13 June around the world to raise public awareness on albinism and to prevent attacks and discrimination against persons with albinism.
International Albinism Awareness Day-2019 theme is "Still Standing Strong".
International Albinism Awareness Day 2019 theme aims a call to recognize, celebrate and stand in solidarity with persons with albinism around the world, and to support their cause – from their accomplishments and positive practices to the promotion and protection of their human rights.
International Albinism Awareness Day was first declared on 18 December 2014, by the United Nations General Assembly (UNGA) while adopting resolution A/RES/69/170 with effect from 13 June 2015,
Albinism
Albinism is a congenital disorder characterized by the partial or complete absence of the pigment melanin in the skin, hair, and eyes.
The lack of melanin in the skin makes albinos more prone to sunburn and skin cancers. Albinism is also associated with visual problems such as photophobia, amblyopia (lazy eye), nystagmus, etc.
Most people who carry an albinism gene don't show any signs of the condition, a baby with albinism can be born to parents whose coloring is typical for people of their ethnic group. The most common form of ocular albinism affects only males who have inherited an albinism gene from their mothers.