Updated By: LatestGKGS Desk
WMO: Highlights of Year 2017 temperature and Climate Change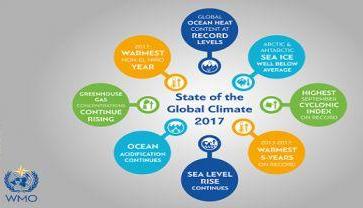 Keys Highlight for the year 2017 set to be one of top three hottest years on record symptoms for a long terms warming trend
The World Meteorological Organization (WMO) reports the past three years have all been in the top three years in terms of temperature records. This is part of a long-term warming trend.
According to WMO, the year 2017 witnessed an extraordinary weather including temperatures topping 50 degrees Cesium in Asia, record-breaking hurricanes in the Caribbean and Atlantic reaching as far as Ireland.
As per the review of the Food and Agriculture Organization (FAO), agriculture accounted for 26 percent of all the damage and loss associated with storms, floods, and drought.
WHO also stated, the global health impacts of heatwaves depend not only on the overall warming trend but on how heatwaves are distributed across the world.
According to the recent researchers, the overall risk of heat-related illness or death has climbed steadily since 1980, with around 30 percent of the world's population now living in climatic conditions that deliver prolonged extreme heatwaves.
Total 23.5 million people were displaced during weather-related disasters in 2016.
Majority of these internal displacements were associated with flood and occurred in the Asia-Pacific region.
More than 760000 internal displacements were reported in Somalia.