Updated By: LatestGKGS Desk
28 July: World Nature Conservation Day 2019 Theme, Details, Aim, Significance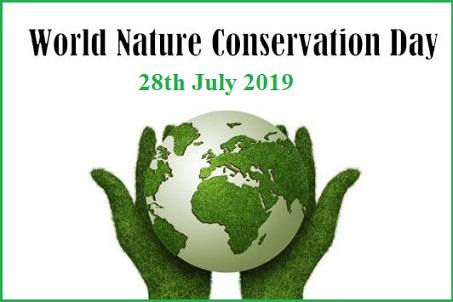 28 July: World Nature Conservation Day 2019 Theme, Details, Aim, Significance
World Nature Conservation Day (WNCD) is celebrated every year on 28th July around the world to raise awareness about protecting nature and conserving our natural resources.
World Nature Conservation Day (WNCD) observance aims to recognize that a healthy environment is a foundation for a stable and productive society and to ensure the well-being of present and future generations, we all must participate to protect, conserve, and sustainably manage our natural resources.
World Nature Conservation Day 2019 theme is not decided yet.
Background
At present, the world is facing natural disasters in the form of more and more devastating droughts, storms, floods and tsunamis due to climate change.
Nature is becoming unable to provide in sufficient quantity and quality the daily life elements like water, food and clean air.
Well managed wetlands, these natural ecosystems of special value, are part of the solution. They are nature-based solutions for climate-related challenges and human well-being.
Some easy practices that can make your lifestyle green if followed in daily life are –
Help in conservation activities in your area / surrounding natural areas.
Participate in environmental awareness activities.
The wise use of resources like paper, fuel, etc.
Efficient use of water & energy at home.
Try to avoid the use of plastic bags while shopping.
Be a responsible tourist by practicing eco-tourism.
Avoid littering around during travel.
Appreciate nature and keep vigilance on surrounding nature destruction, inform concerned authorities.
Latest World Nature Conservation Day Updates