Updated By: LatestGKGS Desk
World Tsunami Awareness Day: 5 November, Details, Background, History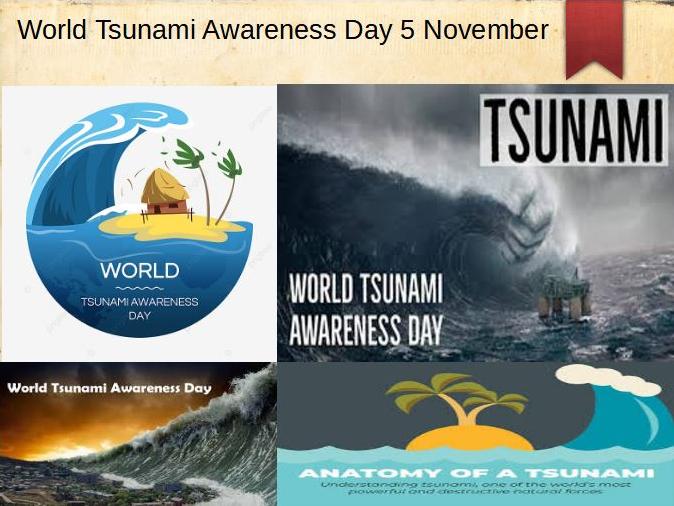 World Tsunami Awareness Day 5 November: Details, Background, History
On November 5, World Tsunami Awareness Day is commemorated to raise awareness about the dangers of tsunamis and the necessity of early warning systems in reducing the damage caused by natural disasters. This day also supplies traditional tsunami wisdom.
Background Of Tsunami
A tsunami is a series of massive waves that occur beneath or near the ocean as a result of earthquakes or volcanic eruptions. It is one of the deadliest natural disasters in recorded history. The Indian Ocean tsunami, for example, killed 227,000 people in 14 nations in December 2004. Approximately the previous 100 years, 58 huge tsunamis have struck the globe, killing over 260,000 people. Each tsunami claimed the lives of 4,600 people on average, far outnumbering any other natural disaster.
Tsunamis have caused over 10% of worldwide economic losses from disasters during the last two decades. Coastal low-lying areas and tiny islands now house nearly 700 million people. According to the United States, over half of the world's population will reside in coastal areas by 2030. Extreme sea-level disasters, such as flooding and tsunamis, may befall them.
History of the day
On November 5, 2016, the first World Cities Day was held.
By resolution A/RES/70/203, adopted on December 22, 2015, the United Nations General Assembly declared 5 November as World Tsunami Awareness Day, urging governments and international entities to increase tsunami awareness and share creative activities.
The 5th of November was chosen to commemorate the Japanese legend of "Inamura-no-Hi" (literally "rice sheaves burning"). A Japanese farmer noticed the sea receding during an earthquake in 1858 and realized a tsunami was approaching. He lit a fire to alert the other people, allowing them to retreat to higher ground. Following that, the farmer constructed an embankment and planted trees in order to safeguard the village from future tsunamis.