Updated By: LatestGKGS Desk
World Vegan Day: 1 November 2021, Details, History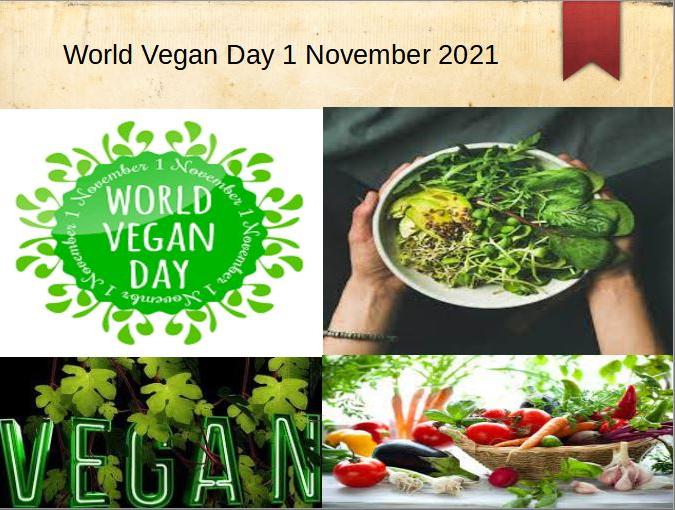 World Vegan Day 1 November 2021
On November 1st, World Vegan Day is observed to increase awareness about the advantages of a vegan diet and veganism in general. The first Vegan Day was held on November 1, 1994, to mark the UK Vegan Society's 50th anniversary. Activities such as setting up stalls, holding potlucks, and planting memorial trees are used to highlight the benefits of veganism for humans and the environment. The Vegan Society in the United Kingdom's Louise Wallis founded the event in 1994 to honor the 50th anniversary of the organization's inception and the coining of the terms "vegan" and "veganism."
History and significant
Donald Watson, an English animal rights activist who formed the Vegan Society, invented the term Vegan, which is derived from the word Vegetarian. Vegans were defined as vegetarians who did not consume dairy products in the early 1940s. This then extended to a variety of animal-derived foods and by-products. Vegans are people who avoid eating meat, fish, and poultry, as well as animal products and by-products such as eggs, dairy products, honey, leather, fur, silk, and cosmetics.
World Vegan Day falls on the same day as Halloween. There was no information on the date the World Vegan Society was created, according to Louise Wallis. "We knew the Society was created in November 1944 but didn't know the precise date, so I chose 1 November, partially because it coincided with Samhain/Halloween and the Day of the Dead — traditional feasting and celebration occasions, both suitable and auspicious," he explained.