Satyarup Siddhanta became 2nd Indian to scale world's highest volcano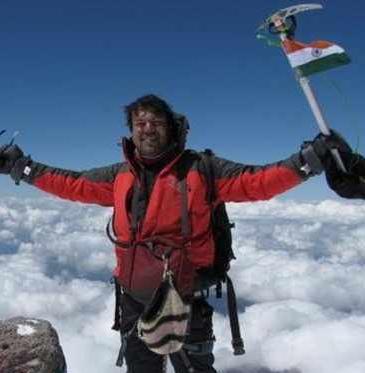 Satyarup Siddhanta became 2nd Indian to scale world's highest volcano 'Mt Ojos del Salado'- Details
Satyarup Siddhanta has become the 2nd Indian mountaineer after Malli Mastan Babu to scale Mt Ojos del Salado, the highest volcano in the world.
Mt Nevado Ojos del Salado is a stratovolcano (a volcano built up of alternate layers of lava and ash) in the Andes on the Argentina-Chile border and the highest active volcano in the world at 6,893 meters (22,615 ft).
Satyarup Siddhanta is also set to be the first Indian to climb Mt Sidley, the highest volcano of Antarctica, which will help him realise the dream of scaling 7 summits and 7 volcanic summits.
Satyarup Siddhanta skied the last degree to the South Pole and hoisted the Indian flag at minus 40-degree centigrade.
Satyarup Siddhanta earlier on 15th December 2017 he summited Vinson Massif, becoming only the fifth Indian civilian to complete the seven summits (Messner's List).
Satyarup Siddhanta who was born on 29th April 1983 (age 35 years) hails from Kolkata, West Bengal is an Indian Mountaineer and Engineer by profession. He is a certified mountaineer from Himalayan Mountaineering Institute, Darjeeling.
Satyarup Siddhanta has won several states, national & international awards. He also works as a motivational speaker.