Father of White Revolution In India Dr Verghese Kurien Profile, Achievements, Awards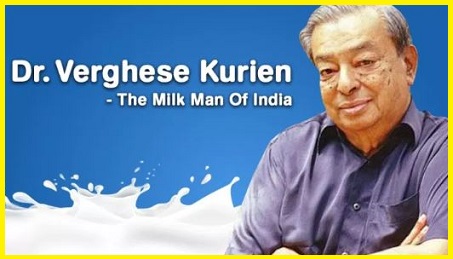 Father of White Revolution In India Dr. Verghese Kurien Profile, Achievements, Awards
Dr. Verghese Kurien, known as the 'Father of the White Revolution' in India, was a social entrepreneur who had started billion-litre idea-Operation Flood which was the world's largest agricultural development programme.
Dr. Verghese Kurien is also known as the Milkman of India and the architect of Operation Flood.
Dr. Verghese Kurien was born on 26 November 1921 in Calicut (now Kozhikode in Kerala) in the Madras Presidency of British India. He had died on 9 September 2012 in Nadiad, Gujarat, India.
Dr. Verghese Kurien's 'Operation Flood' had helped in transforming India from a milk-deficit country into the world's largest milk producer.
Dr. Verghese Kurien was a pioneer in starting co-operatives movement in the dairy sector. He had founded around 30 cooperative institutions of excellence (like AMUL, GCMMF, IRMA, NDDB) which are owned, managed by farmers and run by professionals.
Dr. Verghese Kurien was also the founding chairman of the Gujarat Co-operative Milk Marketing Federation (GCMMF) and pioneer in establishment and success of the Amul brand of dairy products.
Under Dr. Verghese Kurien chairmanship, Amul achieved key invention of milk powder processed from buffalo milk.
Awards and Honors
Dr. Verghese Kurien received many national & international prestigious awards throughout his life's career. Some of them are as follows:
In 1963, he received Ramon Magsaysay Award.
In 1989, he was named for the World Food Prize by World Food Prize, USA.
He was conferred with Padma Shri in (1965), Padma Bhushan (1966), Padma Vibhushan (1999) by Government of India.
Also, he was accorded with the Economic Times award for Corporate Excellence (2001) among many others.
In the year 2014, the Government of India had declared to celebrate National Milk Day (NMD) on 26th November every year to mark his birth anniversary.