National Milk Day Celebrations On 26th November Theme, Objectives, History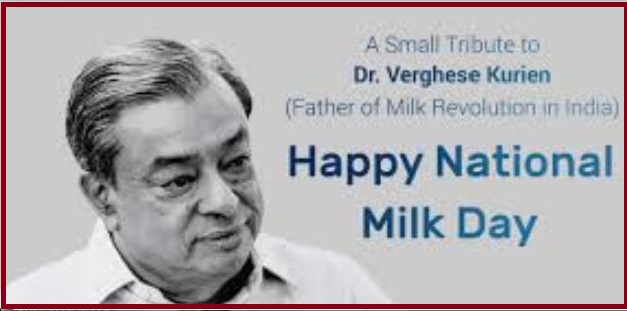 National Milk Day Celebrations On 26th November: Details, Aim, Significance, History
The National Milk Day (NMD) is celebrated on 26 November every year across India, to mark birth anniversary Dr.Verghese Kurien, father of the White Revolution in India.
This year in 2018 it is the 95th birth anniversary of Dr.Verghese Kurien and the fifth edition of observance of the day since it was established in 2014.
The National Milk Day (NMD) observation of this event includes all dairy cooperatives across the country had conducted a mega activation in all markets across the country.
Besides, the Gujarat Cooperative Milk Marketing Federation (GCMMF), which markets the Amul brand of milk and dairy products printed 150 million milk pouches with the National Milk Day logo featuring Dr. Kurien's picture with the National Milk Day logo on it.
The proposal of observing National Milk Day was first proposed by Indian Dairy Association (IDA) in 2014 on the lines of World Milk Day (observed every year on June 1) under the aegis of UN Food and Agriculture Organization (FAO).
The first National Milk Day was observed on 26 November 2014 by all Indian dairy sector majors including National Dairy Development Board (NDDB), IDA along with around 22 state-level milk federations.
Milk Importance: Milk is globally known for its richness in calcium and thus its importance for human bones But not only this Milk also contains more than 9 other essential nutrients. It contains protein, carbohydrates, vitamins, minerals, and fats