Defence Minister Nirmala Sitharaman Inaugurates IFC-IOR in Gurugram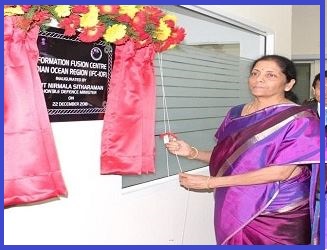 Defence Minister Nirmala Sitharaman inaugurates Information Fusion Centre– Indian Ocean Region (IFC-IOR) in Gurugram: Details, Highlights
Defence Minister Nirmala Sitharaman recently on 22nd December 2018 inaugurated the Information Fusion Centre-Indian Ocean Region (IFC-IOR) at Information Management and Analysis Centre (IMAC) in Gurugram.
The IFC-IOR is aimed to engage with partner nations to develop maritime domain awareness and share information on vessels of interest in the Indian Ocean Region (IOR).
The IFC-IOR would also help in enhancing maritime security and safety of the nation
The information exchange at the IFC-IOR would be initially undertaken by virtual means, using telephone calls, faxes, emails and video conferencing the over internet.
The IFC-IOR would undertake the conduct of exercises and training capsules in maritime information collation and sharing.
The Indian Ocean Region (IOR) is essential to world trade and economic prosperity of many countries as more than 75 percent of the world's maritime trade and 50 percent of global oil consumption passes through it.