Supercomputer Pratyush features, history, specifications Details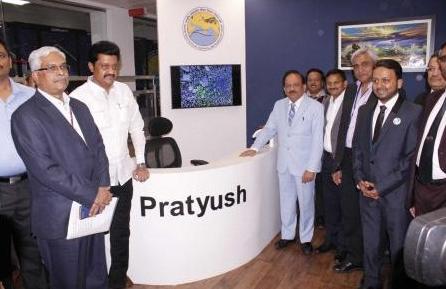 India's Fastest Supercomputer Pratyush features, history, computing power, specifications details
India's supercomputing expertise achieved a new dimension with the proclamation of its fastest and first multi-petaflops supercomputer Pratyush.
Indian Union Minister for Science and Technology, Harsh Vardhan inaugurated Pratyush on 8th January 2018, at the Indian Institute of Tropical Meteorology (IITM) in Pune.
A petaflop is a measure of a computer's processing speed and 'Pratyush' can deliver an apex power of 6.8 petaflops.
Pratyush would help India to escalate the weather forecasting in terms of monsoon, extreme events, tsunamis, cyclones, earthquakes, air quality, lightning, fishing, hot and cold waves, flood and drought etc.
Pratyush a genesis of computers, draws 4 petaflops HPC from IITM, Pune and the remaining 2.8 petaflops from the National Centre for Medium-Range Weather Forecast (NCMRWF) situated at Noida.
Pratyush is believed to be the fourth fastest supercomputer in the world, which will enhance India capacity in devotion for weather forecasting and climate research after Japan, UK, and the USA.
India is likely to gain its position from the 368th position to the top 30 in the Top 500 list, a respected international tracker of HPC (High Performance Computing) facilities in the world.