Updated By: LatestGKGS Desk
UIDAi: Aadhar Online Contest: How to Apply, Prize Money, Terms & Condition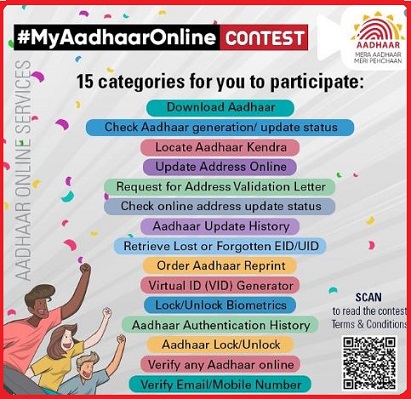 UIDAI: Aadhar Online Contest: How to Apply, Prize Money, Terms & Condition
Unique Identification Authority of India has opened a contest for Aadhaar holders across India.
To participate in this AAdhaar contest, anyone has to make an animated tutorial video of any of the 15 services provided by the Aadhaar to take part in this contest.
This animated tutorial video should be between 30 and 120 seconds.
The service you are creating in a tutorial video should be easily understood in that animated video.
Anyone can make this video in Hindi or English.
Any participants can upload your video to YouTube, Google Drive or any other video sharing platform and link it to the UIDAI email media.division@uidai.net.in. The video format should be mp4, avi, flv, wmv, mpeg or mov. High resolution and full HD would be most preferred.
Also, participants have to give some personal information in the email. Most importantly, it is necessary to link the Aadhaar card to the bank account. If your base is not linked to your bank account, you have to link it before August 31.
Contest Prize Money
The most creative & explanatory videos stand a chance to win a cash prize of up to Rs. 30,000.
There are a total of 15 categories for a cash prize and top 3 videos of these categories will be awarded. Initially, the winner will be given Rs 20,000, the second will be given Rs 10,000 and the third winner will get Rs 5,000.
For Best Video in Contest, UIDAI has billed the best video for all entries. In this, the winner will be given 30,000 rupees to the winner, second to 20,000 rupees and third to 10,000 rupees.