Arunachal Pradesh Gets Its Biggest Solar Power Plant at Energy Awareness Park Details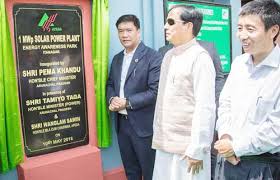 Arunachal Pradesh Gets Its Biggest Solar Power Plant at Energy Awareness Park- Details, Features, Benefits
Indian state Arunachal Pradesh gets its biggest Solar Plant situated at Energy Awareness Park on 10th May 2018.
The Solar Plant was inaugurated by Arunachal Pradesh's Chief Minister Pema Khandu in the presence of Power Minister Tamiyo Taga.
The Solar Plant instituted is fully automatic and it doesn't involve any manpower to make it operational.
As per the officials, the Solar Plant with a capacity of 1 Megawatt was commissioned on 1st April 2018 at an estimated investment of Rs 8.50 crores implemented by the Arunachal Pradesh Energy Development Agency (APEDA).
The Solar Plant work was started on 19th April 2016 and was completed on 30th March 2018 Haryana-based M/S Dynamic Powers executed the work on the solar plant.
APEDA director Marki Loya informed that the plant will reduce the burden of energy bills on the state. Depending on weather condition and solar radiation, power generation starts around 5.30 am and continues until 6 pm.
The Solar Plant has generated more than 1 lakh units of electricity from the date of its commissioning.
CM Pema Khandu on the inaugural event proclaimed that AP Government is also planning to install solar plants in health centers and upcoming mini secretariats in the districts.