Updated By: LatestGKGS Desk
New species of Pit Viper found in Itanagar, Arunachal Pradesh: Details, Features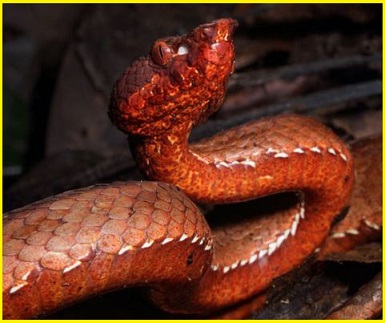 New species of Pit Viper found in Itanagar, Arunachal Pradesh: Details, Features, Habitat
A new species of Pit Viper named "Trimeresurus arunachalensis" was recently found in West Kameng district of Itanagar, Arunachal Pradesh.
The Pit Viper "Trimeresurus arunachalensis" was discovered by a team of herpetologists from Indian Institute of Science Education and Research based in Pune, led by Ashok Captain. Their discovery was published in the Russian Journal of Herpetology.
The newly found species has reddish brown color and a unique heat sensing system. It is a venomous snake.
It is never described before therefore this single known specimen of this species makes it currently the rarest pit viper in the world.
Before this discovery, India has been a home of four brown pit vipers – Malabar, Horseshoe, Hump-nosed, and Himalayan.
With this, India is now home to a fifth brown pit viper. The other four brown pit vipers are Hump-Nosed, Horseshoe, Malabar, and Himalayan who were discovered about 70 years ago.
This new discovery makes Arunachal pit viper the second serpent to have been discovered in the state after Crying Keelback, a non-venomous snake was found in Arunachal's Lepa-Rada district in 2018.
Arunachal Pradesh
Capital: Itanagar
Governor: D. Mishra
Chief Minister: Pema Khandu