Updated By: LatestGKGS Desk
Arunachal Pradesh Geography, Location, Landmass, Terrain, Rivers, Dams, Features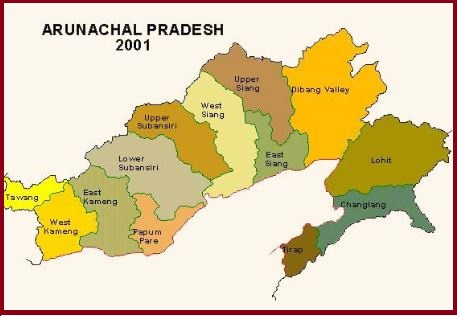 Arunachal Pradesh Geography, Location, Landmass, Terrain, Rivers, Dams, Features
Arunachal Pradesh is a state in northeastern India. Its capital name is Itanagar. It was commissioned to Indian Union on 20 February 1987.
Arunachal Pradesh is known as "the land of dawn-lit mountains" and is also known as the Orchid State of India or the Paradise of the Botanist.
Arunachal Pradesh is bordered by China, Myanmar and Bhutan, Tibet and by the Indian states of Assam and Nagaland. Its 96 percent hill terrain and, it is the hills which have acted as the natural boundaries for the different communities that inhabit Arunachal.
Arunachal Pradesh has 25 districts and covers an area of 83,743 km2 (32,333 sq mi) of land.
Arunachal Pradesh climate shows different feature owing to the difference in the topography and altitude of the land. Here, the climate ranges from sub-tropical to temperate depending on the altitude of the land.
Arunachal Pradesh is the largest of the 7 Sister States of Northeast India.
Rivers
Brahmaputra, Kameng, Siang, Lohit, Subansiri, Tirap, etc
Arunachal Pradesh
Capital: Itanagar
Largest City: Itanagar
Districts: 25
Official Language: English
Population: 1,38,2611+
Literacy: 766.95%
Major Crops: rice, maize, millet, wheat, pulses, sugarcane, ginger, and oilseeds. among other horticulture & fruits orchards
State Animal: Gayal (Mithun)
State Bird: Great Hornbill
State Flower: Lady Slipper Orchid
State Tree: Hollong
Governor: Brig. Dr. B.D. Mishra (Retd.)

Chief Minister: Pema Khandu (BJP)