Updated By: LatestGKGS Desk
GK Questions 28th August 2019 General Knowledge, Current Affairs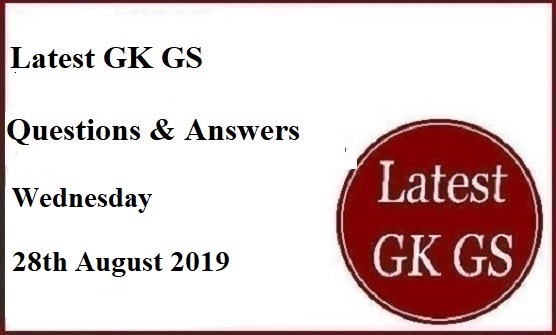 Daily GK Questions Wednesday 28th August 2019 General Knowledge, Current Affairs
1. Which stadium will soon be renamed as Arun Jaitley Stadium?
2. Which country is hosting UNCCD COP14 Session in September 2019?
Ans: India
3. PM Narendra Modi announced to celebrate September 2019 as what?
Ans: Month of Nutrition
4. Who became the first-ever Indian tennis player to win a set against Roger Federer?
Ans: Sumit Nagal
5. Which item has been banned by the Directorate General of Civil Aviation while traveling in planes?
Ans: Apple Mac Book
6. US President Donald Trump called for reinstating of which nation as a permanent member in the G7 group?
Ans: Russia
7. Which country will be the host of G7 summit 2020?
Ans: United States
7. Which country rejected the $22 million G7 aid to fight Amazon rainforest fire?
Ans: Brazil
8. Which city will host the Indo Pacific Chiefs of Defence (CHOD) Conference 2019?

Ans: Bangkok
9. Andhra Pradesh government recently announced that the Polavaram Project work will be resumed from November 2019. The project runs on which river?

Ans: Godavari
10. Which State Government recently announced that it will waive water arrears of people who live in colonies categorized as E, F, G, and H?
Ans: Delhi
11. Which country recently requested the United Nations to call back all peacekeepers from the country by June 2020?
Ans: Sudan