GK Questions 27th August 2019 General Knowledge, Current Affairs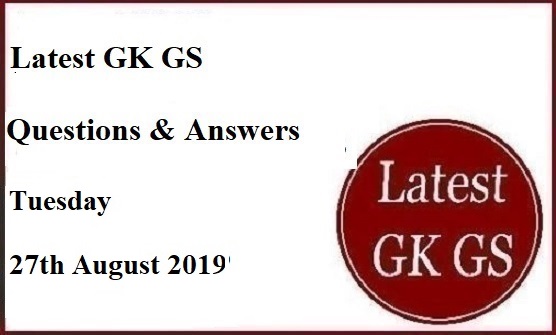 Daily GK Questions Tuesday 27th August 2019 General Knowledge, Current Affairs
1. Mother Teresa 109th birth anniversary celebrations were held on which date?
Ans: 26th August 2019
2. Which nation conferred PM Narendra Modi with King Hamad Order of the Renaissance award?
Ans: Bahrain
3. Who wins the title of Durand Cup 2019 defeating Mohun Bagan?
Ans: Gokulam Kerala
4. Which pension scheme Modi 2.0 Govt got updated fore more benefits?
Ans: Pradhan Mantri Vaya Vandana Yojana

5. PM Narendra Modi announced to celebrate September 2019 as what month?
6. According to Finance Minister Nirmala Sitharaman, all the pending GST refund would be returned to the MSME within how many days? ?
Ans: 30

7. Who was selected for the Outstanding Engineer Award-2019 by Institution of Engineers in India??
8. Which day celebrations are being observed from 25th August- 8th September 2019?
Ans: National Fortnight On Eye Donation
9. HRD Ministry launches which digital library project?

Ans: National Digital Library of India

10. When is the Women's Equality Day celebrated every year?
Ans: 26th August

11. Who became the first-ever Indian To Win Gold In Badminton World Championships?
Ans: PV Sindhu